New XX Series Balanced Interconnect
21 December 2011
We are revamping our lineup of balanced XLR cables. Most all of our smaller diameter XLR cables will be using the Neutrik NC3FXX-B and NC3MXX-B XLR connectors. We will also be introducing variants which are terminated using the Neutrik NC3FXX-HA and NC3MXX-HA. The HA connectors have silver plated contacts and will connect to the cable using a precision crimp connection rather than solder.
The XX series of interconnects have the option of colour coding for channel identification using coloured bushings which are available in 7 colours. These colour options are selectable when ordering your cables online.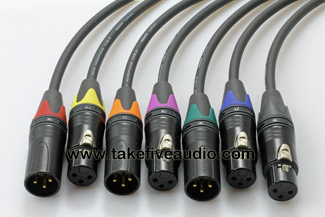 The full lineup should be available online within the next 2 weeks, at this time the Mogami 2534 and Mogami 2549 are available in the XX version.



UP
DATED
:

The Mogami 2534 Cryo Treated version using the XX Series connectors is now available.