Changes to Our Cryogenically Processed Inventory
12 February 2014
We are in the process of converting all of our cryo processed inventory to our new deep cryo process. As existing inventory is used it will be replaced with our new deep cryo treated version. As you navigate the product pages it will be easy to see which products are the new version because they will have our new cryo logo at the bottom of the extended description page.

This logo is your guarantee that the parts you are viewing have been processed by Take Five Audio using our equipment and process.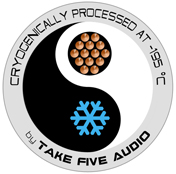 All of our cable builds are currently being built from parts that have been processed by Take Five Audio using our own equipment and profiles. Our cable builds will be switched over to new printed shrinktubes using a new cryo logo to easily tell at a glance which process was used on the cables. The new cryo logo for the cables is below.




When you see this logo on our cables you know they have been treated with the best cryogenic processing available.