Custom Cable Burn-in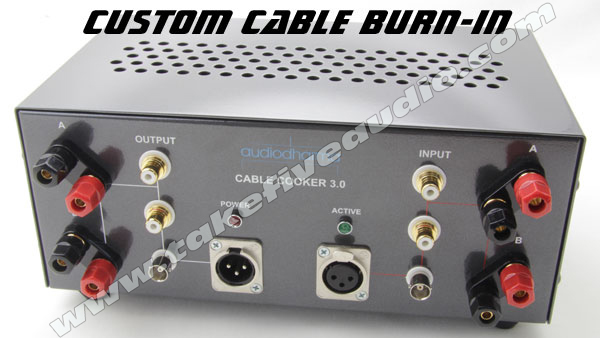 Cable Burn-in
All cables will require a break in period, depending on the materials used this can take upwards of 400 hours with some types of cable. The conditioning process can be at best inconvenient if being done using your audio system. Some applications such as speaker cables and phono cables can be very difficult to properly condition with normal use in an audio system due to the signal levels required to completely burn in these types of cables. For instance, very few people play their system loud enough to properly condition speaker cables, and phono cables will never completely burn in with the small signal from a phono cartridge. The CABLE COOKER produces a signal approximately 2000 times higher than the average MC cartridge!



We use the audiodharma CABLE COOKER

versions 3.0 and 2.0 Pro for all our cable and outlet conditioning. The CABLE COOKER will expose the cables to continuous signal levels they will not experience during normal use in an audio system. This improves the sound quality of all forms of interconnects, speaker cabling, and power cabling beyond any normal break-in cycle.

The CABLE COOKER 3.0
uses a

swept square wave which starts at 0 DC and is calibrated at just over 40KHz.

This frequency sweep improves on every sonic parameter, translating into more transparency and dimensionality, a deeper/wider soundstage, and deeper/tighter bass information. We use the CABLE COOKER 3.0 for all our interconnect, powercord and speaker cable burn-in.

Our

Cables


Our cable burn-in service is available on all

our custom terminated cables at a discounted cost

, simply select the option to have your new cables burned in before shipment. Your new cables will arrive at your door requiring only 2-3 days of normal use to settle in to your system and produce 90-95% of their potential, 100% performance will occur with regular use.



Your Cables


If you already have cables or AC outlets that you would like to have properly conditioned they can be shipped to us directly and we will be happy to burn them in for you. Our prices are very competitive and our turnaround time is excellent. Most items are a 5 day cycle on our cooker.

Price List

| | |
| --- | --- |
| Interconnect Pair (RCA or XLR) 5 Day Cycle | $20.00 |
| AC Outlet 7 Day Cycle | $15.00 |
| Digital Interconnect (RCA, XLR, BNC) 5-7 Day Cycle | $15.00 |
| Single-Wire Speaker Cable Pair 5 Day Cycle | $25.00 |
| Bi-Wire Speaker Cable Pair 5 Day Cycle | $30.00 |
| Powercords 5 Day Cycle | $15.00 |
| DIN to RCA Phono Cable 5 Day Cycle | $15.00 |
Shipping Address
Take Five Audio
P.O. Box 153
Cobden, ON
K0J 1K0
Canada