TFA SB Solid Core UPOCC Bi-wire Speaker Cables
Once you have installed the color coded shrinktube on the speaker leads shrink them down with the heatgun. Start at the end nearest the CPX and work to the end. Otherwise adhesive will become trapped in the centre if you work from both ends or randomly, and your leads will look like a snake that just swallowed a mouse when the adhesive becomes trapped in the middle.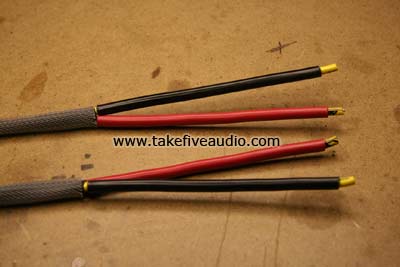 Now we will add a piece of CPA 100 1/2" about 35 mm long to make the transition from the leads to the cable jacket. Be careful with the heatgun so that you do not melt the Polysleeve.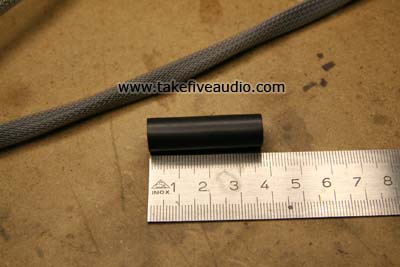 At this point the cable is basically constructed, what remains to be done is the termination. In our example we are using Vampire HDS 5 spades for the amp end and Multi-Contact LS4 banana plugs for the speaker terminations. Trim about 10 mm of insulation from the conductors to prepare for termination. We are crimping the HDS 5 spades, if you are crimping your terminations apply some contact enhancer such as the CAIG Progold to the conductors before crimping.

Once you have the spades crimped on you can then cover the crimp with a piece of CPA 100 3/8". Make sure you let the shrinktube sit far enough forward so that when it shrinks, and the adhesive flows, you have a piece of the tubing fold over the front opening of the spade. This can be pushed in with you finger while it is still hot, this will help seal the end of the connection from the atmosphere.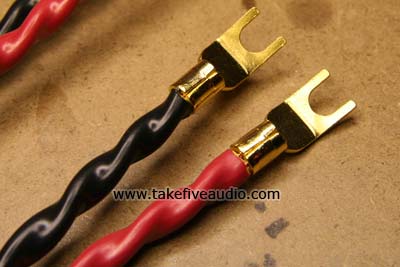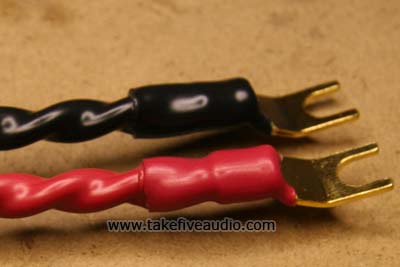 Now we will move to the other end of the cable and make the speaker terminations. We will be soldering the Multi-Contact LS4 bananas using Johnson IA-423 solder. Trim about 10 mm of insulation from the conductors.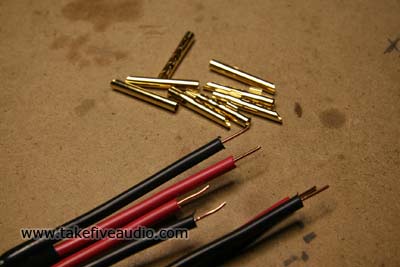 The next step is to place the stripped end of the conductor into the solder cup of the LS4. While holding both pieces steady apply heat and solder to the cup/wire. A"third hand" type holding device works well for this.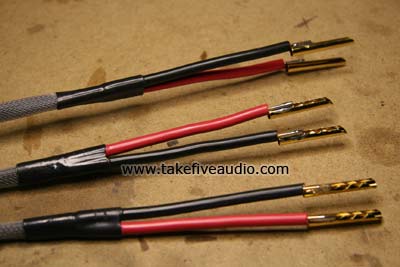 Now we can apply a short piece of CPA 100 3/8 over the solder joints. This will seal the solder joint and provide strain relief.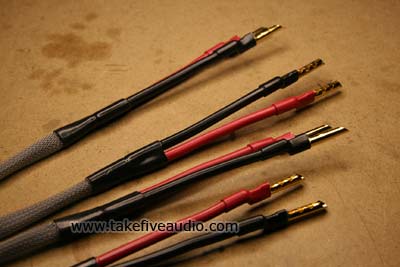 Your cable project is now finished and should look like the one below.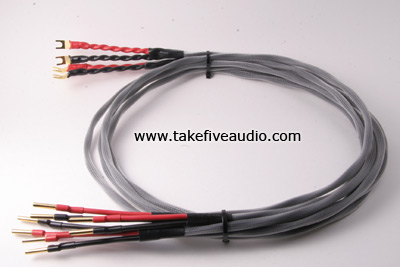 TFA-SB Hi Resolution Photo