TFA-R1 Rega Tonearm Rewire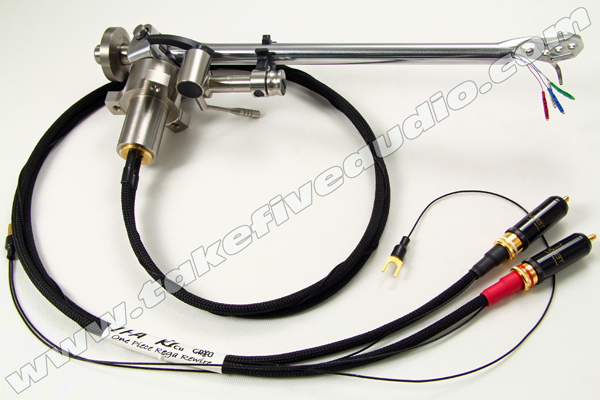 We first introduced our TFA-R1 about 10 years ago, since then the TFA-R1 has evolved into the best engineered and best sounding rewire available for the Rega arms. The Rega benefits greatly from a "one piece" rewire such as the

TFA R1

. Our

TFA R1

rewire uses all Cryo Treated parts in the signal path. We feel the Cryo Treatment enhances the performance of these parts and contributes to the overall performance of our design.

The

TFA R1

separates the ground from the signal conductors and only has solder connections at the clips and RCA's unlike the original Rega wiring scheme. The left and right channel conductors are formed into twisted pairs and routed through a PTFE conduit which has a double spaced, separately shunted, braided copper shield. All solder connections are made using Mundorf Supreme and a precision OK International cartridge soldering system.

The external section of the

TFA R1

is quite flexible and is compatible with most suspended table designs. Cable exit is straight out the bottom of the pivot column. Our cable design will allow a 180 degree sharp bend without collapsing internally and pinching the conductors. Our rewire is not simply a "kit" which we install, each component of the rewire, including the metalwork, is meticulously hand crafted one at a time. We then bring these individual components together to form what we believe to be the finest Rega rewire currently available. We offer the rewire with external cabling up to a maximum of 5 feet in length, Our standard rewire has a 3 foot external cable.




Our standard rewire is as pictured above and comes with:



3 ft external cable
Cryo Treated Cardas PCC E Cartridge clips
Cryo Treated WBT 0102 nextgen RCA's
Cryo Treated Cardas 33 awg internal wire
Full Burn-in on our Cable Cooker


Options Available:

Custom cable length up to 5 ft
Cryo Treated Neutrik XLR's
Cryo Treated Clearaudio cartridge clips
Cryo Treated Van den Hul solid silver internal wire


Rewires are not a stock item, allow 2 weeks for construction after receipt of your arm. Cost of the rewire with a three foot external section, copper wire, and RCA termination is

$475.00

. Prices will vary accordingly depending on actual length. If you would like more information on our rewire or it's suitability for your application please give us a call drop us a line.