Solid Silver RCA Phono Cables
After the drain wire is connected and shrinktube applied the next steps will be to slide on your metal barrel and solder on the bullet plug. Make certain at this point that the bullet plug you are about to install matches the colour of the one you previously soldered on the opposite end of the cable. Also check to see that you are not reversing the polarity (Red = + and White = -).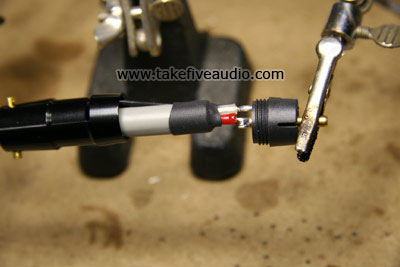 When the solder connections are completed screw on the barrels and tighten the setscrews.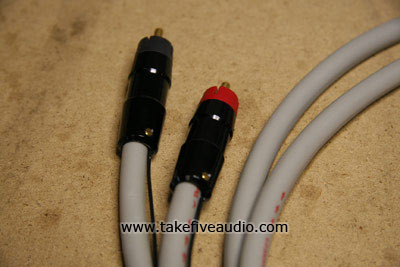 The next step will be to finish off the RCA connectors with a piece of CPX 100 1/2". Before you apply heat to shrink it on make sure the end is just past the first ridge on the back end of the metal barrel, this will keep the shrinktube from slipping off.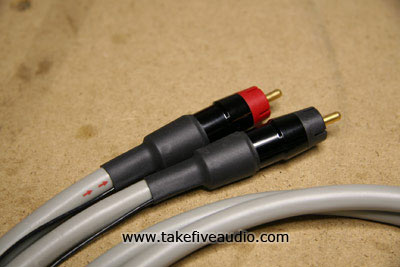 Next strip 1/4" of the jacket from the end of your drain wires and solder on a Vampire BAR spade.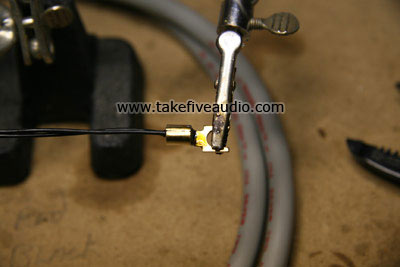 When the solder has cooled install a short piece of CPA 100 1/4" shrinktube to finish off the ground spade.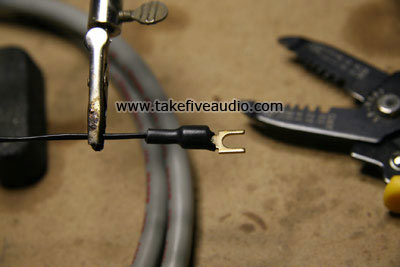 That's it, your finished! Your finished cable should look like the one below.