Building an RCA Input Shorting Plug
Gather up your parts
For each pair of unused inputs you will need one pair of RCA's and (2) 470 Ohm resistors and a small amount of solder. We used Neutrik 352 G male RCA's and Cardas solder.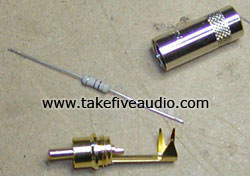 Cut off cable gripper
Next use a pair of side cutters to remove the two cable grippers from the RCA plug.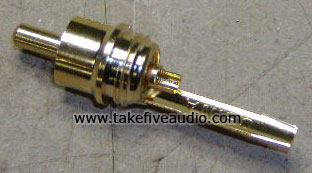 Solder resistor
Next solder the resistor to the centre pin of the RCA plug.

Complete soldering
Next cut the resistor lead to length and form it to contact the "-" portion of the RCA and solder.

Finished
You are now ready to use the plugs on any of your unused INPUTS. Remember,
DO NOT use these on outputs!